A Detailed Look at Your Eyes
Technology is all around us, and eye care is no different! Our team at Virginia Eyecare Clinic is always looking to improve and evolve by implementing innovative technology in our eye exams to provide an informative, efficient patient experience.
Whether we use OCT to check for glaucoma and diabetic eye changes or corneal topography to evaluate your corneal health and fit contact lenses efficiently—our eye exams are tailored to your needs.
Contact us to schedule your next appointment and get a firsthand look at our technology in action.
Book Appointment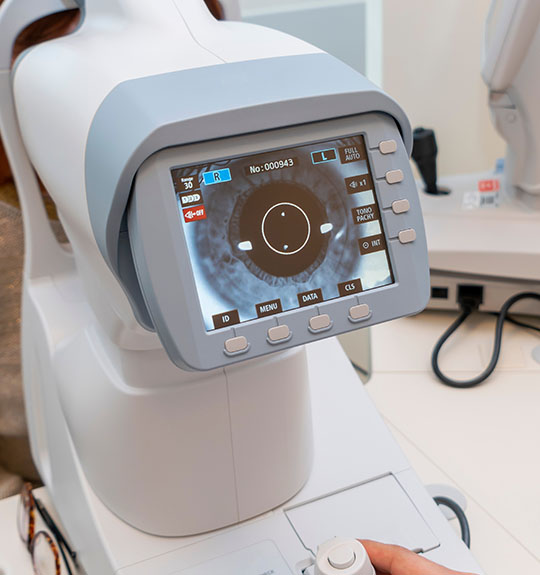 Advanced Testing for Unique Visual Needs
From contact lens exams and fittings to diabetic eye exams, our technology helps us provide a comprehensive experience. We want to ensure we capture all the details of your eyes and provide a personalized exam experience every time you visit us.
We also offer diagnostic services for eye diseases like glaucoma and macular degeneration. We even screen your children for signs of hereditary retinal diseases.
Explore Our Technology
Our technology is a big part of our practice, and we continue to evolve and add new technology to help our team address your vision goals and needs.
OptiLight by Lumenis
OptiLight by Lumenis is a light-based, non-invasive treatment done in the area below the eyes to manage dry eye. The first and only IPL FDA-approved for dry eye management.
The treatment is safe, gentle, and is backed by more than 20 clinical studies.
OptiLight uses precise pulses of light to reduce the inflammation that is typically associated with dry eye disease, improve tear break-up time, and increase meibomian gland functionality.
OCT
Optical coherence tomography (OCT) is a non-invasive imaging test that uses light waves to take cross-sectional images of your retina, the tissue lining the back of your eye.
OCT allows our team to see each of your retina's distinct layers, helping us map and measure their thickness. OCT gives our team important information regarding glaucoma, diabetic eye changes, and other conditions like Alzheimer's and cardiovascular diseases.
Rebound Tonometry
Rebound tonometry is a screening test that allows our team to measure the pressure inside your eye without that uncomfortable puff of air! Measuring eye pressure gives our team important information regarding eye diseases like glaucoma.
Corneal Topography
Corneal topography helps our team visualize a digital map of the front surface of your eye to evaluate your corneal health. This testing allows our team to fit your contact lenses safely and efficiently, and it can also help us check for signs of eye diseases.
Meibomian Gland Imaging
Dry eyes can be challenging and put a halt to your productivity. We want to help you get to the bottom of your dry eye symptoms. Meibomian gland imaging allows us to get a closer look at your eye and meibomian glands to determine the best treatment option for you, like OptiLight by Lumenis.
Visual Field (VF)
Visual field testing helps us detect dysfunction in your central and peripheral vision. This dysfunction can be caused by various conditions, including glaucoma, stroke, or neurological issues.
Optos Photos
Optos photos allow our team to take detailed photos of the back of your eye—giving us insight into the health of your central and peripheral retina, optic disc, and macula. We use optos photos to diagnose and manage different forms of eye disease.
Retinal Imaging
Retinal imaging is a crucial aspect of our comprehensive eye exams and allows our team to get a detailed, photographic view of your eye instantly. Retinal imaging allows us to check for changes in your eyes and vision over time.
Personalized Eye Exams
Every eye is unique, and every eye exam is different! Our team at Virginia Eyecare Clinic implements diagnostic and imaging technology in our eye exams to help get a complete picture when it comes to your eyes, vision, and treatment options.
Contact us to schedule an appointment today and learn more about your eyes.
Book Appointment
Come Visit Us
You can find us on Plaza Drive in the Grundy Plaza, right along the beautiful Levisa Fork. Our team is looking forward to welcoming you.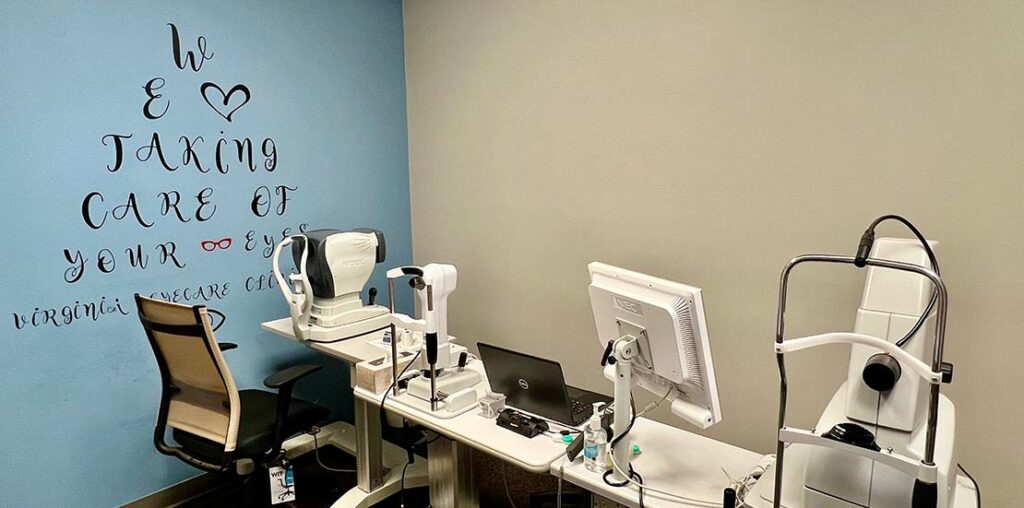 Our Address
1193 Plaza Drive

Grundy

,

VA

24614
Hours of Operation
Monday

:

8:30 AM

–

5:00 PM

Tuesday

:

8:30 AM

–

5:00 PM

Wednesday

:

8:30 AM

–

5:00 PM

Thursday

:

8:30 AM

–

5:00 PM

Friday

:

8:30 AM

–

3:00 PM

Saturday

:

Closed

Sunday

:

Closed
Book Appointment
Our Brands
We've got eyewear options for the entire family, in every budget and every style. Our team will help you pick the perfect frames for your face shape and lifestyle needs.
We carry durable frames for kids, funky colors and shapes for trendy teens, and style-savvy classics for office-goers. No matter your needs, we can find you something that fits your prescription and looks good too!